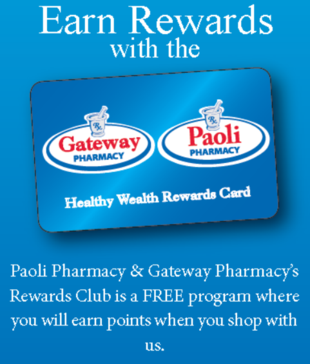 HEALTHY WEALTH REWARDS PROGRAM
Paoli Pharmacy & Gateway Pharmacy's Rewards Club is a FREE program where you will earn points when you shop with us!
HOW IT WORKS:
Earn 1 point for every dollar you spend
Points will be awarded to your rewards account automatically
Be the first to know about sales and important store news
For every 250 points accumulated, receive a $5 gift card!
Bonus 50 points for activating & making a purchase with your rewards card that day
Join today, it's easy and FREE!
Rewards Program: Frequently Asked Questions
May I join without providing an email address?
Yes, but please keep in mind that we have some terrific private sales and exclusive specials that will only be sent via email. We try to limit the emails to no more than 3 per month and you may opt out of our emails at any time and still earn points.
If I forget my card, can I still earn or redeem points?
We've gone cardless! The cashier can look up your account by using the name you provided when signing up. We can update your information at any time, just let us know!
How soon after earning a reward can I expect to receive the rewards on my account?
In most cases, your rewards will be available within 24 hours after reaching 250 points.
TERMS & CONDITIONS
By using the Paoli Pharmacy & Gateway Pharmacy Healthy Wealth Rewards Card you acknowledge having read the terms and conditions and agree to use this program in accordance with them.
To earn points, please notify the cashier at the beginning of the purchase (either by name lookup or with your card/keytag)
Members will be awarded one point for each dollar spent on purchase of all merchandise. Excluded merchandise includes: prescriptions, tobacco, stamps, gift cards, lottery, milk and sales tax. Rewards dollars not valid on prescription copays.
Earned points will be carried over annually, so you never lose a point.
Rewards are issued at point of sale and cannot be awarded after the sale is complete or for previous purchases.
Points earned on the Healthy Wealth Rewards Card cannot be redeemed for cash.
We reserve the right to alter or discontinue the program and benefits at any time.
Rewards cannot be used in conjunction with employee sales.
Please protect your cards and treat them as cash. Paoli Pharmacy and Gateway Pharmacy are not responsible for unintended redemption of any rewards loaded to the card.